There are countless errors that you can find on Windows and we see many of them at Boxaid. One error we occasionally run into is
2502 or 2503 errors
. These typically show up when you are trying to install or uninstall a program on Windows. This could be a common program like a PDF reader or even a Microsoft application. We often see the error most on Windows 8 and Windows 8.1. But we do sometimes see the error on Windows 7. We often run into the error when we are trying to uninstall programs through add/remove programs. The error looks like this: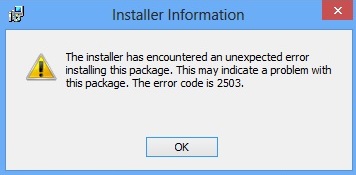 Why the 2502 and 2503 Error Occurs
The root of the 2502/2503 errors are from the MSI installation service on Windows. Whenever you uninstall or install a program, files have to be written to a temporary folder. If Windows is unable to write to that folder then the 2502 and 2503 are typically what you are going to get. Why the permissions on certain temp folders gets damaged, is not a clear answer. It could be installation of junkware or software that promises to speed up your computer. These are those generic programs like
PC Doctor
or
Registry fixers
, or all those programs that promise the world but deliver nothing but problems on your computer.
How to Fix Permissions on Temp Folders
There may be a few locations where permissions are damaged but 90% of the time it is the
Windows Temp folder
. Here is how to fix it.
Navigate to the Windows Temp folder located at c:\windows\temp
Make sure you uncheck the read only button.
Switch to the Security Tab and choose Administrators and make sure it is highlighted.
Make sure that there is a check box next to Full Control for the Administrators and Users group.
Click Apply then OK.
Try the Install or Uninstall Again
Now that we hopefully have the right permission for the Administrator group try the install or the uninstall that you were trying to do again. There is no need to reboot before you try again. If you still get the same
2502 and 2503
the go back to the security tab where you were earlier and add the
Authenticated Users
group and also give them Full Control as well. At this point your uninstall or install should work.  In a worst case scenario, you may have to add the
Everyone
group with full control but that should only be a last resort. Leave us a note in the comments section below if you followed all the instructions and are still having problems. Here is a
Microsoft article
on a slightly alternative way of trying to solve the
2502 and 2503 errors
just in case the instructions did not work for you. If you are still having problems you can of course give us a call at 800-999-6872. We are the leaders in
virus repair
and have been doing
online computer repair
for over 13 years.