If you have Microsoft Word, or the full Microsoft Office suite, loaded on your computer, you expect all your Word documents to open in a new document window. Whether you are typing a memo to the boss, drafting a complaint letter to your electricity supplier or working on a technical document, you need to control the way your Microsoft Word windows open.
That is why it is so disconcerting when you open a Microsoft Word document, only to see it open in an Internet Explorer window instead. After all, there is not much you can do in terms of document formatting editing and proofreading from within the confines of the IE window.
Controlling how your Microsoft Word documents open is a relatively straightforward process, but in order to make the change you will need to make the adjustment at an operating system level. No matter what kind of PC you own, it is the operating system that controls how all files, including your Microsoft Word documents, open, and which programs they use to run.
To make the switch from Internet Explorer back to Microsoft Word, just follow the simple steps outlined below.
1. Open Windows Explorer
The simplest way to open Windows Explorer is to click the Start button and type Explorer in the search box. Windows Explorer will automatically open and be ready for use.
If you prefer, you can also right-click on My Computer, either directly from your desktop or from the convenient Start menu. No matter how you get there, opening Windows Explorer is your first step.

2. Locate Your Folder Options
Once Windows Explorer is open, click the Tools menu to continue. From there choose Folder Options and select the File Types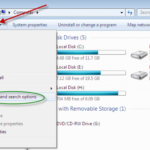 3. Stop Selected File Types from Opening in Internet Explorer
The Folder Options part of your Windows operating system controls how various file types, including your Microsoft Word documents, are treated, and which programs are used to open them. To make the change, find the option for Microsoft Word documents, then click the Advanced option.
After you have selected the appropriate file types, be sure to clear the check box next to "Browse in same window" and click OK to confirm your choices.

4. Close the Folder Options Window and Test Your Changes
Now that the change has been made, it is time to test your changes and make sure your Microsoft Word documents now open in a new document window instead of Internet Explorer. Start by closing the open Folder Options window, then find a Microsoft Word document and try to open it.
You should see the Word document open in the familiar document window. If it still opens in Internet Explorer, start at the beginning and repeat the steps outlined above to determine where you went wrong. Alternatively you can use our computer repair services and give us a call at 800-999-6872
Microsoft Office is an extremely useful, and extremely versatile office suite. Internet Explorer is a great web browser. Keeping the two programs separate is the best way to make the most of each of them, and knowing how to change the way these files are treated can make your life easier and help you be more productive both at the office and at home.